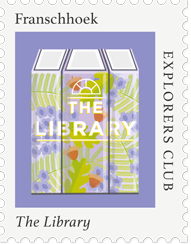 The Library, Franschhoek village
The Library, Franschhoek village
The Library, Franschhoek – sleeps up to 6 adults
Framed by two large Jacarandas and an ancient oak sits The Library, a striking double storey home containing spacious and stylish accommodation for up to six adult guests, with three ensuite bedrooms.
The Library was has been inspired by famous explorers throughout history, as well as our intrepid travels, and is filled with luxury, surprise and charm. From the upstairs, open-plan living room layout taking in Franschhoek's expansive views, the deep floating deck with its overstuffed beanbags, the size of the baths, to the fading David Livingstone canvas hiding a flatscreen TV: all reflect our love of entertaining, travel and all things quirky and intriguing.
Just minutes' walk from the villages bustling main road, The Library rests in tranquil and peaceful surroundings in a quiet corner of the village. A more suitable and relaxing location, for a base to explore the valley and region, would be difficult to find.
Bedrooms at The Library
The Library has three bedrooms: 1 x king and 2 x twin or king.
Two expansive ensuite bedrooms, with bath and shower and double basins, are located on the ground floor of the main house. Both have huge, stacking doors that open onto a covered patio, overlooking the garden and large pool.
The main bedroom has a king-sized bed, while the second bedroom's king-sized bed can be split into two singles on request.
Across the garden, the pool cottage has a king-sized bed which can also be split into two singles, and a shower.
Living and dining
The Library's unique upstairs living area is set in a carefully crafted barn-like expanse – a vast living area that opens up onto a deep floating deck and expansive views over the mountains and vineyards on the south-western side of the Franschhoek valley. Light pools in through windows on all fours walls and through a large central skylight, positioned above the nautical-styled stairs. This central staircase softly subdivides this upstairs living area by separating the dining area and kitchen from a comfortable, relaxed hub of snug sofas and chairs in front of an open, wood fireplace. A long double desk looks through windows back onto the Franschhoek Pass.
The modern kitchen is equipped with the finest Le Creuset cookware, as well as gas hob, oven and dishwasher. The original dining table has a built-in light set underneath an onyx stone inset, creating an unusual and intriguing feature. Out on the deck is a second dining table, a built-in braai and benches with cushions and comfy marine beanbags.
The Library sits next to (and inter-connects with, if required) the Explorers Club which sleeps up to ten guests.
A guest loo, storeroom, laundry and two bedrooms are accessed from the passage on the ground floor. There is a separate pool cottage with an ensuite bedroom in the lush garden.
Rates
1-2 Adults6 550,00
3 Adults7 350,00
4 Adults8 150,00
5 Adults8 950,00
6 Adults9 750,00
1-2 Adults6 950,00
3 Adults7 750,00
4 Adults8 550,00
5 Adults9 350,00
6 Adults10 150,00
1-2 Adults4 950,00
3 Adults5 750,00
4 Adults6 550,00
5 Adults7 350,00
6 Adults8 150,00
1-2 Adults6 950,00
3 Adults7 750,00
4 Adults8 550,00
5 Adults9 350,00
6 Adults10 150,00
1-2 Adults7 650,00
3 Adults8 450,00
4 Adults9 250,00
5 Adults10 050,00
6 Adults10 850,00
Book Now
Combines well with these properties for an excellent holiday experience