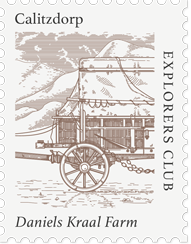 Daniels Kraal Farm, Calitzdorp, Klein Karoo
Daniels Kraal Farm, Calitzdorp, Klein Karoo
Danielskraal, Karoo – sleeps up to 10
Deep in a Klein Karoo valley lies a surprising oasis: a luxurious homestead set in a lush valley with rolling green lawns, a large swimming pool and encased by mountains: Danielskraal.
Built in 1836, this historic building features a thatched roof, thick walls and an expansive veranda (or 'stoep'). With a sense of faded grandeur, the charming bedrooms, chic bathrooms and spacious living areas make for a comfortable, relaxing and restful living space that has been stylishly decorated with antique furniture and trinkets collected from the owner's extensive travels.
Danielskraal sits along the Old Caledonskloof wagon route in 2300 hectares of pristine wilderness and is home to over 100 bird species, a variety of small game such as a giant leopard tortoises, klipspringers, hares and caracal and even several fossils. Hike, mountain bike, relax under the shade of the Silver Oak by the pool with your G'nT, or under an eiderdown of stars: all in splendid isolation.
Bedrooms at Danielskraal
Daniels Kraal has 4 bedrooms: 3x double; 1x twin with bunk beds
There are four bedrooms in the main house, sleeping 8 – 10 guests, and one bedroom in the small cottage set apart from the main house with sleeping for 2 guests. The master bedroom has a four poster bed (double), an ante-room / study and full bathroom. It opens onto a little stoep overlooking the vegetable garden with two wicker chairs and table. This is the most luxurious of the bedrooms – there is a chest of drawers and a cupboard for hanging. The ante-room has a day-bed, ideal for a small child, as well as a camp cot.
The second bedroom suite has a full ensuite bathroom with French doors that open onto the garden, overlooking the pool and vineyards. It also has a cupboard and a double bed. Both the second and the master bedrooms are located off the vast veranda.
The third bedroom has a double bed and cupboards and shares a bathroom with the fourth bedroom, which contains twin beds as well as a bunk bed.
Living and dining
Enjoy alfresco dining under the shade of the Silver Oak on the lawn or take your meals on the large veranda with an amazing view over the farm. On chilly evenings you might want to have dinner in the formal dining room adjacent to the living room's roaring wood fire. There is an abundance of gorgeous tableware and napery.
The kitchen is a cosy but very well-equipped, with an electric stove, two fridges, a dishwasher, an ice-machine, Nespresso machine and plenty of Le Creuset cookware.
While there is no Wifi or cellphone reception in the house itself, if you walk up the hill you will be able to pick up a signal, the cottage picks up cellphone reception, and the owners have limited Wifi on the verandah of their cottage.
Rates
Weekday4 500,00
Weekend5 500,00
Weekday6 000,00
Weekend6 500,00
Weekday8 500,00
Weekend9 000,00
Enquire Now
Combines well with these properties for an excellent holiday experience