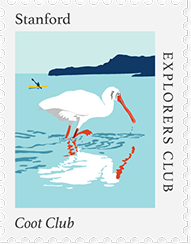 Coot Club, Stanford – sleeps up to 40 guests
Coot Club is where nature becomes the glue for families and friends, amid the elemental wilderness of the Western Cape.
Six years in it's making, Coot Club has 464 hectares of privately protected fynbos on the Overberg coast, and beyond the lagoon on which it's set, the Maanschynkop mountains glow in the last of the day's sun. Three eco-savvy boathouses line the water's edge, spaced apart and stilted to protect the riverine vegetation of the pristine estuary.
The boathouses, with nautically themed red, turquoise and sunshine-yellow walls, framed maritime flags vintage finds, ticking stripes on rattan rockers and deep slip-covered linen sofas that didn't mind damp swimsuits or sandy feet. This spot has become a cure-all for everything, from burnout to digital addiction. While it feels utterly remote it is an easy two-hour car trip from Cape Town.
Kayaking on the Klein River lagoon, fatbiking through the fynbos and whale-watching and wild swimming on the deserted beach in the adjoining nature reserve became all we craved. Sleep with the curtains open, waking at dawn to a chorus of birdsong, and take it in turns to serve each other coffee in bed before drifting over to the Clubhouse for fresh fruit and homemade granola, egg-and-bacon- filled croissants and cinnamon pancakes.
The Clubhouse, a restored 19th-century stone farmhouse, which stood empty for decades, earning its local nickname, the Spookhuis. If there were any spooks, they would have fled this now-sociable hub with a games room in the attic, plus a small library, dining room and natty little bar serving the best cool-climate wines from the region.
Rolling lawns lead to a clutch of stone cottages, two solar-heated swimming pools, a boules court and a raft of SUPs, kayaks and dinghies.
Coot Club is catnip for time-starved families, their appetites revved by being active in bracing sea air. At night, you have lantern-lit pizza and barbecues under 500-year-old milkwood trees, listening to fiery-necked nightjars, before ambling home under the stars.
Invigorated family and friends seem as carefree as the birds that haunt this blissful stretch.
(Thanks to the wonderful Jane Broughton for her words!)
Boathouses & Stone Cottages (sleeping up to 40 guests)
The boathouses consist of two or three bedrooms, 2 en-suite main bedrooms with lagoon views, and a 2nd smaller twin bedroom with separate bathroom, the boathouses are ideally suited to a family, or friends. The snug can accommodate 2 additional children under 13 years, on sofa beds. An open plan lounge, dining and kitchen with vaulted ceiling adds to the airy and spacious charm that flows seamlessly out to the lawn, fynbos and lagoon beyond. A wood burning fireplace completes the atmosphere for the chillier nights in winter.
The Stone Cottages retain the charm of a typical stone building tucked into the Milkwood forests with beautiful outdoor seating areas. There are four cottages, sleeping from couples up to six adults and 5 children, in the largest cottage on the lawns.
Clubhouse and Bar
We offer complete flexibility with the Clubhouse, located in the historic Spookhuis, and al fresco dining under the spreading branches of the 400-year-old milkwoods.
Enjoy breakfast from 8 to 11am. From 11am the Clubhouse offers an a la carte lunch menu of light eats. We keep it simple but authentic in the relaxed spirit of Coot Club: BBQ roast chickens in the Weber Grill, pizzas cooked in the wood-fire oven, refreshing salads, homemade burgers and the like.
An hour before sunset we ring the ship's bell – guests are welcome to join us on the lawn or jetty for sundowners. Here we share the dinner menu of the day – informal, home-style dishes, sharing plates for two.
In winter we get cosy with lit fires in the Spookhuis, and books on hand. Meals get more hearty, but remain simple, authentic, local. Ideal if you've spend the day exploring Stanford's culinary scene, and feel like an early dinner, and staying in.
Activities
Coot Club is about doing as little or as much as what you would like. We have various included activities, guided and self guided, on the property for you to enjoy.
ACTIVITIES ON THE LAGOON – DURING DAYLIGHT HOURS ONLY
• Kayaking – Glide across the lagoon in a double kayak and explore the bird sanctuary and soak up the scenery. Maximum 14 people in 7 double Kayaks
• Stand up Paddleboarding – Maximum 4 people
• Sailing – Please note this activity is for experienced sailors/skippers only. Children under the age of 16 years
must be accompanied / supervised by an adult. Enquire at the Clubhouse for assistance & guidance on this specialized activity. Maximum 6 people
FAT BIKING (MAXIMUM 6 PEOPLE)
For cycling enthusiasts, fat bikes are ideal for cycling to the Walker Bay Beach & Nature Reserve, or on tracks around the cottages. The rides are challenging with spectacular scenery along the way. You can also enjoy flat 4km cycle trip to Springfontein Winery for tastings, or to lunch at Dutchies along the Walker Bay beach. Half day or full day use.
SELF-GUIDED NATURE WALKS AND BIRD WATCHING
There are two different walks from the Clubhouse exploring the surrounding area. The shorter walk takes 45 minutes along the shoreline, wetlands and returns to the Clubhouse through the Milkwood trees. The longer 90 minute walk takes you to a higher altitude with views over Walker Bay, beach, and lagoon.
OTHER ACTIVITIES
• Lawn Games available to use – boules, volleyball, tug-of-war, corn-hole game, slip and slide, beach bats
• Experience the Vegetable Garden.
• Fishing (Please bring your own fishing tackle/equipment & fishing permits)
• Table Tennis and various board games in the Club House
AFTERNOON BEACH EXCURSION (ADDITIONAL COST)
A relaxing drive with an open safari vehicle into the Walker Bay Marine Protected area. The MPA protects rocky and sandy shore habitats and kelp forests immediately offshore that provide refuge for overexploited abalone and west coast rock lobster. There is always the chance of seeing Whales breaching while taking a stroll along the shoreline, or just enjoying a beverage while the sun sets over the bay.
Activities and Experiences in the local area
In close proximity to us are a wonderful selection of other activities. We can organise and book these activities for you from the Clubhouse.
SPA TREATMENTS
Book through Clubhouse Reception (See in room folder for treatments & pricing). Treat yourself to an indoor or outdoor spa treatment in an ancient milkwood grove. Natural Kalahari massage products are used and Elemis BIOTEC facials are offered. Milkwood Spa price list available.
GUIDED QUAD-BIKING
Explore the magnificent flora, birds, and lagoon wetlands of the area. The trip traverse's limestone ridges and paths along the Hermanus Lagoon with beautiful mountain and lagoon views.
BOAT CRUISE ON THE KLEIN RIVIER LAGOON
The two-hour trip is a leisurely boat cruise down-river from Stanford towards the mouth of the Klein Rivier Lagoon. The Klein River is home to a large variety of endemic bird species and beautiful views from the water. Enquire about different boat options at the Clubhouse Reception.
THE VILLAGE, RESTAURANTS AND LOCAL WINERIES
Stanford village is charming and we highly recommend taking an hour or two to stroll the streets and enjoy a cup of tea or lunch at one of the many restaurants. There is a Saturday morning fresh produce market showcasing plenty of local treats.
These three local wineries, Maanskijn, Strandveld and Springfontein, offer tasting experiences. These must be booked in advance. A tennis court is also available to rent at Springfontein on an hourly rate.
Madres Stanford – Country Kitchen freshly prepared cuisine with soul – Lunch & dinner by booking only
Manor house @ Stanford Valley farm – Contemporary Country Cooking – Lunch (Wed – Sun) & Dinner (Thurs – Sat)
Springfontein Ulumbaza Wine Bar – Lunch & Dinner Monday – Sundays 11h00 – 21h00
Springfontein Fine Dining Pop-up – Popup Fine Dining summer months only.
Zesty Lemon – Sir Robert Stanford Estate – Serving stylish comfort food to families in a tranquil farm setting
La Trattoria Italian Restaurant – Authentic, delectable Italian Cuisine 18h30-20h15 – bookings essential
Activities and Experiences further afield
There are many more activities in and around the Hermanus, Gansbaai and Stanford areas. From whale watching to fat biking tours, epicurean feasts to scenic flights, and many others. We will happily help you to book all of these at the Club House. Rates are subject to change.
GUIDED FAT BIKING
This activity is offered by Fatbike Tours SA and is a guided cycling experience on the Walker Bay dunes departing from the village of De Kelders.
WHALE WATCHING OR MARINE BIG 5 BOAT TOUR
Between June and November, Southern Right Whales migrate from Antarctica to the tip of Africa to court, mate, and calf. Walker Bay is one of the best places to view these mammals and a boat trip brings you up close to them while adhering. to a set of rigorous laws. This trip takes you by boat in search of the Marine Big 5:Whales, Great White shark, African penguin, Cape Fur Seal, and Dolphins.
SCENIC FLIGHTS AND AIR-BORNE WHALE WATCHING
Flying over Walker Bay gives you spectacular views of mountains, white sand beaches, dunes, and marine life. From the air, you can spot whales and skim above along the kilometres of empty beach. Scenic flights are available all year round.
FEEDING PENGUINS AT THE DYER ISLAND CONSERVATION TRUST
Situated in Kleinbaai near Gansbaai the penguins and other seabirds are fed daily at 3pm. This is a wonderful activity for young children. Entrance is free but donations are very welcome.
WALKING IN PLATBOS FOREST
Platbos Forest is one of the few surviving indigenous forests in South Africa. A Lowland Afro-temperate forest remnant, it is filled with ancient trees, some of which are over a 1000 years old.
NUWEJAARSRIVIER WETLAND TOURS
Departs from Black Oyster Catcher Wine Farm and explores a unique wetland area. A must for nature and bird lovers.
Book Now
Combines well with these properties for an excellent holiday experience