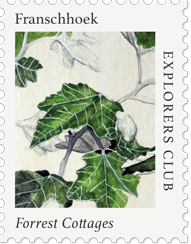 Forest Cottages, Franschhoek farm
Forest Cottages, Franschhoek farm
Forest Cottages, Franschhoek – sleeps up to 4 in 7 separate cottages
Located on the forest edge of one of Franschhoek's oldest farms, alongside a stunning line of Silver Poplars, these eight lavishly simple, two-bedroomed cottages offer incredible views over forest, vineyards and valleys. Once the labourers' cottages for the farm, they were rescued from years of neglect by the current owners, to the relief and delight of many locals who once lived, loved and laughed in them.
This row of deceptively rustic, terraced cottages is made up of five mezzanine cottages and two, more spacious, two-bedroomed cottages. All have sun-drenched patios, open-plan living, dining and kitchen areas, that overlook an immense swimming pool (20m x 5m) with a vine-covered, pool-side pavilion. Decorated with a collection of watercolours, oil paintings, colourful Indian textiles and antique linen cushions, each rustic cottage has its own unique sense of life, adventure and tranquillity. Booked together, they are the ideal setting for large family gatherings and celebrations, or individually for quiet getaways. The tiny and charming Honeymoon Cottage (sleeps 2), with some of the best views in Franschhoek, is located next door.
Bedrooms at Forest Cottages
The loft/mezzanine cottages (Cottages 2, 4, 5, 7 & 8) have one double bedroom and one twin loft/mezzanine room.
The main bedroom, with double bed, of these more intimate cottages is located on the ground floor. The mezzanine-level second bedroom has twin beds nestled in the eaves and overlooks a cozy, open-plan living, dining and kitchen area, with a dining table (seating for 4), built-in Barazza-style sofas, armchairs, and a built-in wood burning fireplace. French doors open out onto a sheltered patio with built-in barbecue and endless views.
Ideal for families with older children or couples sharing, these cottages have a family shower-room, with enclosed shower, loo and single basin (towels and toiletries provided). The rooms are also equipped with a fan for summer, and wall-panel heaters if the nights are cool. Each bedroom has a guesthouse quality mattress, pure cotton bedding, feather pillows and duvet – adding a touch of luxury to each cottage's rustic simplicity.
The two-bed cottages (Cottages 3 & 6) have two bedrooms: 1 x double and 1 x twin.
Unlike the mezzanine cottages, both bedrooms are on ground level, also with a shared, family shower-room. The spacious open-plan living, dining and kitchen area contains built-in Barazza-style seating and lavish armchairs, all facing a farmhouse-style and air-conditioning. French doors open onto a sunny patio with Weber barbecue, and small table and chairs – perfect for families with young children, couples sharing or with elderly grandparents.
Living and dining at Forest Cottages
All eight of the Forest Cottages have well-equipped kitchens with electric hobs and combination oven/microwaves, fridge/freezer units, SMEG toasters and kettles, and an ample supply of crockery – everything you need for alfresco family meals or cozy dinners. A small table with chairs is on each patio, and farm-style dining areas indoors; or stoke up the barbecue in the pool-side pavilion, for larger gatherings.
With their built-in sofas and large armchairs, the intimate sitting rooms are perfect for fireside glasses of wine, while the Barazza-style seating on the patios is custom built so that you can soak up the sunset, fall asleep in the sun or just take in the endless views.
You can even help yourself to seasonal herbs and veggies from the kitchen gardens outside the cottage entrances. Picnic on the lawns by the pool, have a barbecue (braai) on your own patio, or gather with friends in the pavilion for pool-side meals.
Enquire Now
Combines well with these properties for an excellent holiday experience