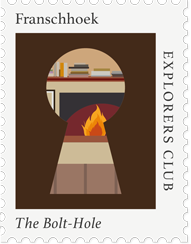 The Bolt-Hole, Franschhoek village
The Bolt-Hole, Franschhoek village
The Bolt-Hole – Sleeps up to 4
Hidden behind a striking wall of aloes, this characterful two-bedroomed hideaway retains the warmth of a lived-in home. The Bolt Hole's quirky décor, open-plan kitchen, living and dining area and shady garden will inspire and restore any adventurous spirit.
This secluded refuge is situated in the centre of the village on Cabriere Street – Franschhoek's last remaining dirt track – just a short stroll from the award-winning restaurants, galleries and shops that give Franschhoek's its reputation.
Bedrooms at The Bolt-Hole
The Bolt Hole has two double bedrooms. The main bedroom suite is located on a mezzanine level, in the bamboo-clad eaves of the house. This large open-plan space contains a King-size bed, plenty of cupboards, as well as a claw-foot bath and vanity set under a skylight. Another skylight lets in natural light, with a ceiling fan and air-conditioning unit, for summer nights. On colder nights, the cottage's open-plan design allows the sitting room's wood-burning stove to warm the entire space.
The second bedroom is found on the ground floor, with double doors opening out onto a private garden. With a queen-size bed, and en suite safari-style shower and vanity, this cosy room is separated from the living area by a writing nook with a desk and cushioned window-seat.
Living and dining at The Bolt-Hole
The open-plan living, dining and kitchen area opens onto a sunny veranda in front, and a secluded garden to the side. A number of cushioned window seats and two sofas facing a large fireplace and wood-burning stove, make up the relaxed living area.
The kitchen is fully-equipped with a SMEG fridge, gas hob and oven, dishwasher, toaster, kettle, plenty of sharp knives and everything you need to prepare and enjoy at-home meals, with a breakfast table that seats four.
The large, pool-side dining area comfortably seats 8- 10 people under a canopy of mature vines – perfect for long, lazy garden meals. Wood and utensils are supplied for the built-in barbeque – or in South African-speak: 'braai'.
Most of Franschhoek's restaurants are within walking distance of The Bolt Hole.
Enquire Now
Combines well with these properties for an excellent holiday experience