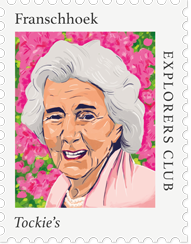 Tockie's, Franschhoek village
Tockie's, Franschhoek village
Tockie's, Franschhoek – sleeps up to 4
Located on one of Franschhoek's oldest roads, this historic and popular, two-bedroomed cottage's unimposing wooden entrance and tin-roof veranda belie the elegance and spaciousness found inside.
Wrapped around a secluded, bougainvillea-clad courtyard garden with swimming pool and sun-loungers, Tockie's charm and warmth lie in its modern farmhouse feel, large sash windows, wooden floors and ceilings and relaxed, open-plan layout. The mountain views, sun-drenched rooms and complete privacy make this an idyllic Franschhoek retreat.
Bedrooms at Tockie's
Tockie's has 2 bedrooms: 1x king, 1 x twin or king
With two sunny ensuite bedrooms, Tockie's can sleep a family, or two couples. The ample main bedroom houses a king-sized bed, plenty of cupboards, sash windows and French doors that open directly onto the sunny courtyard garden and pool. The large ensuite, tucked neatly behind the cupboard unit, has a marble-topped his and hers vanity, bath, enclosed shower area and separate loo.
The second, twin/king, bedroom opens out onto a secluded stretch of the garden. This bedroom has twin single beds, which can be set up together to form a king-sized bed, plenty of cupboard space and a generous ensuite with shower, loo and bath. Both bedrooms are equipped with air-conditioning units and ceiling fans for warmer nights and wall-panel eco-heaters for cooler nights, as well as heated towel rails in the bathrooms.
Living and dining at Tockie's
An open-plan TV, dining and kitchen area make up one wing of this cottage, opening out onto an outdoor eating area in the courtyard garden. The fully-equipped kitchen, with fridge /freezer, gas hob and electric oven, dishwasher, toaster, kettle and microwave, is centred round a wooden preparation island. A large wooden, farmhouse-style dining table comfortably seats 8 people and both overlook a relaxed TV room, with a smart TV, Blu-ray player, sofas and a gas fireplace.
A generous main living area with air-conditioning links the west-wing to the main ensuite, with two comfortable sofas and large, glass sliding doors that open up to take in the sunny garden, pool and mountain views. The wood-burning stove transforms this area into a cosy, warm retreat in winter, and heats the rest of the house. In the garden is a Weber barbeque, or in South African-speak: 'braai', for outdoor grilling. Most of Franschhoek's village restaurants are within walking distance of the cottage.
Rates
1-2 Adults3 850,00
3 Adults4 350,00
4 Adults4 850,00
Per Child250,00
1-2 Adults4 450,00
3 Adults4 950,00
4 Adults5 450,00
Per Child250,00
1-2 Adults3 025,00
3 Adults3 525,00
4 Adults4 025,00
Per Child250,00
1-2 Adults4 200,00
3 Adults4 700,00
4 Adults5 200,00
Per Child250,00
1-2 Adults4 850,00
3 Adults5 350,00
4 Adults5 850,00
Per Child250,00
Book Now
Combines well with these properties for an excellent holiday experience