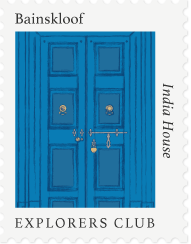 India House, Bainskloof – sleep up to 8
Tucked away in the scenic Bainskloof Mountain Pass lies a private reserve. It's a small piece of heaven, enshrouded by nature.
India House, named for its striking turquoise front door imported from Guhart, India, is hidden deep in the historic and picturesque mountain pass of Bainskloof, on a 2500-hectare private nature reserve. The reserve forms part of the Boland Mountain Complex in the Cape Floristic region, one of eight areas in South Africa designated by UNESCO as World Heritage sites and boasts over 800 species of fynbos, trees, shrubs and plants, as well as a wide range of fauna.
India House offers a luxurious retreat for up to six people, plus an additional small one-bedroom cottage. Focussed on conservation, the owners have retained the indigenous flora and fauna, and the reserve has access to soul-inspiring mountain hikes and trails to the waterfalls and natural pools of two main perennial rivers: the White river and the Bastiaanskloof river.
Bedrooms at India House
India House has 3 bedrooms: 2 x King, 1 x twin and a cottage with 1x Queen
There are two spacious main bedrooms with ensuite bathrooms and outdoor showers. While the bedrooms and bathrooms have underfloor heating, they are lit by candle lighting to induce a more meditative mood. A third, smaller bedroom, sleeps two with an ensuite shower room.
Within 100 meters of the main house, is the self-contained Kraal Cottage, which can be used as a fourth bedroom. Once the stopover point for cattle herders taking their cattle to the market in Wellington, this self-catering, one-bedroomed cottage has been stylishly refurbished to offer an intriguing and romantic place to stay.
Living and dining at India House
India House has a state-of-the-art French oak-panelled kitchen, fully-equipped with hob, oven and dishwasher, two fridges to cool your wine in, and a coffee machine for espressos and cappuccinos to perk you up, as well as a massive fireplace which all opens onto a sheltered, internal courtyard for alfresco dining.
The main living area draws nature inside with its naturally sourced beams, roofing and local riverstone to create an open-plan wonderfully calming barn-like space, with comfortable sofas and large fireplace, plus TV and DStv. Dine or soak up the sun lizard-like in the internal courtyard, or use the outdoor terrace, barbeque (braai) and dining area by the pool with loungers and dining table. A large gazebo seating area can be found on the mountain-side of the swimming pool.
Enquire Now
Combines well with these properties for an excellent holiday experience